Sports Collectibles Return to Long Beach Expo
March 14, 2012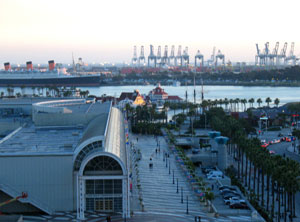 The Long Beach, California Convention center (foreground) is conveniently located near several popular tourist attractions including the famous Queen Mary luxury liner (top left).
(Photo credit: Donn Pearlman)
(Long Beach, California) - A sports collectibles section will be returning to the popular Long Beach Coin, Stamp & Collectibles Expo. The three-times-a-year show again will now include buying and selling sports collectibles, such as trading cards, autographs, game-used equipment and other sports-related memorabilia.
The next Long Beach Expo will be held Thursday through Saturday, May 31- June 2, 2012, in the Long Beach, California Convention Center, 100 S. Pine Ave. PSA and PCGS Collector Club members, set registry participants and Authorized Dealers will be admitted free to the show during public hours.
"Since its founding in 1964, Long Beach has been one of the country's most important shows. Everybody has fun at Long Beach, and now there'll be even more fun as we bring back a section devoted specifically to sports collectibles," said David Hall, President of Collectors Universe, Inc. (NASDAQ: CLCT), the parent company of the Long Beach Expo organizer, Expos Unlimited.
It's been a decade since the show featured a sports section.
"I'm excited about the Long Beach Expo again opening its doors to the sports collectibles hobby because it gives a big boost to West Coast collectors and dealers," said Joe Orlando, President of Professional Sports Authenticator).
"An established, existing collectibles show with a strong following among coin, stamp and paper money collectors is expanding to again include sports memorabilia, and this should be very well received."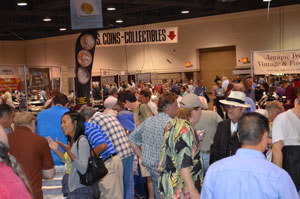 A scene from the busy September 2011 Long Beach Expo. A sports section now will be added beginning with the upcoming May 31 - June 2, 2012 show.
(Photo credit: Donn Pearlman)
Orlando said preliminary plans for the sports section include 30 or more dealers' tables, and PSA and PSA/DNA Authentication Services will be accepting submissions at the show.
"The Long Beach Expo is a high-quality show. Collectors know you're going to see many of the top dealers, and the dealers appreciate that it attracts earnest collectors who enjoy quality over quantity. Now it will be even better with the addition of the sports section."
The Long Beach Coin, Stamp & Collectibles Expo will be open for dealer setup on Wednesday, May 30, 2012, from noon to 7 pm. Public hours will be Thursday and Friday, May 31 and June 1, from 10 am to 7 pm, and Saturday, June 2, from 10 am to 5 pm.
Public admission is $8 (good for all three days); $6 for members of any coin or stamp club; $4 for seniors 65 and older and for children ages 8 to 16. Free admission for PSA and PCGS Collector Club members, PSA and PCGS Set Registrants, PSA and PCGS Authorized Dealers and for children ages 7 and younger.
For additional information about dealers' tables or public admission, contact Lorena Molfino by phone at (800) 733-6623 or email at [email protected].

Article provided by Professional Sports Authenticator (PSA) at www.PSAcard.com