PCGS Announces Winners of Coin Grading Contest at the Long Beach Expo, September 2012
BJ Searls - September 12, 2012
(Long Beach, CA) – Eldrich Yap of Temple City, California is the winner of the coin grading competition in the adult division sponsored by PCGS Photograde™ Online which was conducted at the September Long Beach Expo. Eldrich scored 6.5 out of 20 correct grades.
Each adult participant had 20 minutes to grade 20 U.S. coins of random denominations and dates that were previously certified by PCGS, but without their PCGS grade visible in the holder.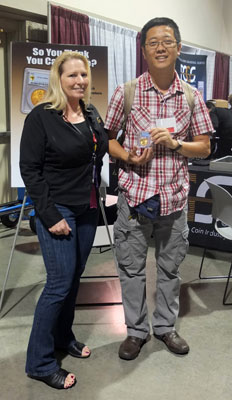 Eldrich Yap receives his PCGS Secure Plus MS65 $20 Saint Gaudens from Gayle Kean, PCGS Set Registry Coordinator.
Seventeen adults participated in the contest. The final breakdown was as follows:
Number of coins
graded correctly
Number of contestants
who achieved the score
6.5
1
6
4
4
7
3
4
2
1
Patrick King, 14, of San Diego, California won for the young numismatist high school division and received a PCGS Secure Plus MS65 Morgan silver dollar at the show. This is Patrick's second win. There was a tie for the pre-high school division. Both Ben Mesko, 8, of Newport Beach, California and Madalyn Olivares, 8, of Hacienda Heights, California won MS65 Morgan dollars. This was Ben's second win. Six young numismatists participated in the contest.
Due to the popularity of the coin grading competition, it has now become a permanent feature of the three-times-a-year Long Beach Expo, the summer ANA, and the FUN show in January. The next grading competition will be held during the FUN show, Orlando, January 10-12.
Additional information and complete rules are available on the PCGS web site at www.pcgs.com/gradingcontest.html.
The 20 coins and grades from the adult grading contest were the following:
1941-S 10C MS67FB


1907-D $5 AU53


1946-S 25C MS66


1885-O $1 MS63


1923 $1 MS66


1901-S $10 MS65


1953 50C PR64CA


1901-S $10 MS63


1904 $20 MS65


1879-S $1 MS65


1892 1C MS65RB


1954 1C MS64RD


1930-S 25C MS64FH


1923-S $1 MS63


1884-O $1 MS66


1932 $10 MS63


1881-S $1 MS61


1934 10C MS63FB


1938-D 5C Buffalo MS66

The ten coins and grades from the kids' contest were the following:
1938-D 5C Buffalo MS65


1945-S 10C MS65


1924 $20 MS64


1923 $1 MS63


1922 $1 MS65


2010-W $1 Disabled Veterans MS68


1923 $1 MS64


1907-S $10 AU58


1932 $10 MS65


1904 $20 MS63

Grading coins is not as easy as you might think and it really gives you a better appreciation for the graders at PCGS. Take the challenge! Participate in the next grading contest and test your skills. You could be a winner, too!
BJ Searls is a graduate of Pepperdine University with a Master's in Business Administration. She has been involved in numismatics since 1973 and has worked for Collectors Universe since 1997. BJ manages the Set Registry programs for PCGS, PSA and PSA/DNA. Email:

[email protected]

.



Article provided by PCGS at www.pcgs.com