WIN a Special 5-ounce Panda Medal at Long Beach Expo, Feb. 7-9
January 17, 2013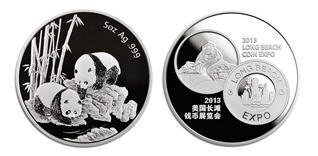 5-ounce commemorative Panda medal will be offered in a daily drawing; limited quantity for sale.
(Long Beach, California) - At the Long Beach Coin, Stamp & Sports Collectible Expo February 7-9, 2013, we will have a drawing for a special 2013 Long Beach Expo Panda medal each day. These genuine 5-ounce silver commemorative medals, commissioned by Panda America, come directly from an official mint of the People's Bank of China.
The Shen Zhen Guobao Mint has struck .999 fine silver five-ounce commemorative Panda medals in conjunction with the show. The mintage is only 2,500, and they will be offered for sale in specially-produced holders while supply lasts.
Chinese Pandas are becoming some of the most popular collector coins and medals in the world. And the Expo will be full of Pandas for you to enjoy and add to your collection:
The drawing will take place each day of the show. Enter at Registration Desk (upstairs). If you register online you will automatically be entered in the drawing when you check-in at the show. Winners need not be present and will be notified.
There will be a special Panda collection at the Long Beach Expo Collectibles Display (Booth #828).
The China Mint will have the 5-ounce Long Beach Expo commemorative Pandas for sale at their booth, #1138. Quantity is extremely limited, so make sure you come Thursday February 7 before they run out. The first 500 people to buy the coin will get a free PCGS grading voucher.
Panda America will display a dazzling array of Pandas and other Chinese coins at Booth #1048.
If you are a serious collector of Pandas, or just enjoy coins and collectibles in general, you need to join us!