By Mark Harvey
In my years of attending the Long Beach Expo in Southern California both as a professional and as a guest, I've noticed a lot of people who are new to submitting collectibles items to third-party grading services like Professional Coin Grading Service [https://www.pcgs.com/] and Professional Sports Authenticator [https://www.psacard.com/]. With the myriad of options for service levels and add-ons, it can be an understandably intimidating process, especially when it could involve items worth life-changing amounts of money. Fortunately, there are a multitude of resources available at a show that can make the experience more enjoyable.
Here are just a few of the benefits of submitting your items for onsite grading and authentication at the Long Beach Expo:
Turnaround Time
One major reason people line up to submit their coins, cards, and other collectibles items for onsite grading at the Long Beach Expo is the turnaround time. Both PSA and PCGS define onsite grading and / or authentication in a pretty similar manner, with the process taking place start to finish at the show, and customers being able to pick up their orders by the end of the show. For the Long Beach Expo, this could mean dropping your item off on Thursday and having it back on Friday or Saturday without having to pay for something pricey like overnight shipping. That brings us to our next advantage of onsite grading…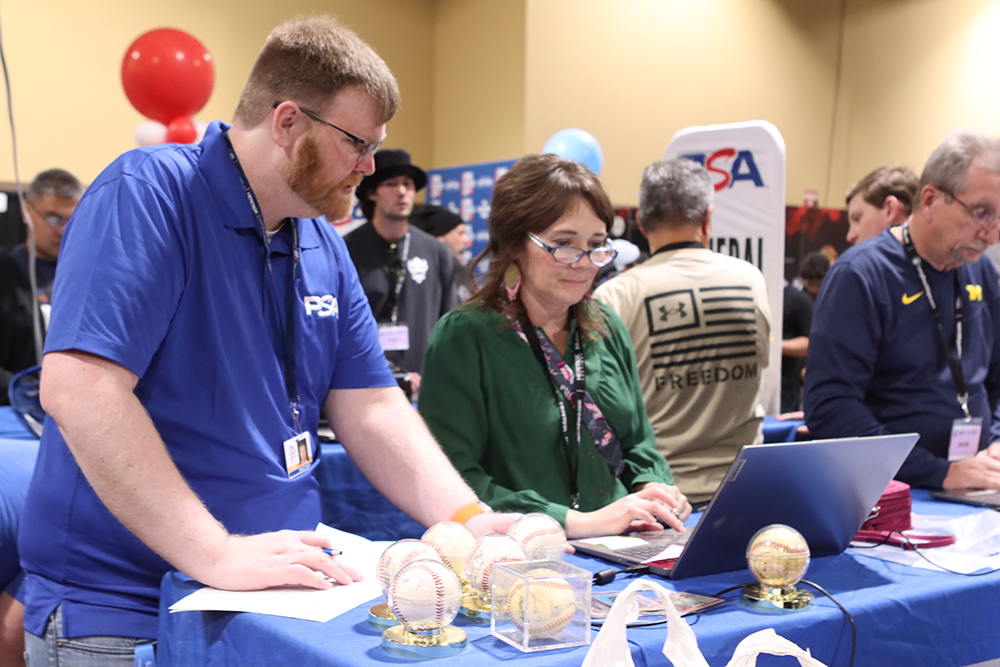 A member gets assistance with their PSA submissions. Courtesy of Long Beach Expo.

Let's face it, nobody likes to pay for shipping. We've all probably bought things online we didn't really want or need for $5 or less, just to avoid paying $7.99 or more on the item(s) we actually wanted, but that didn't quite meet the threshold for free shipping. Well, by bringing your items to the Long Beach Expo and picking them up at the same place you can avoid shipping costs altogether.
Now, if you happen to miss the cutoff for onsite grading, you can still submit your collectibles for take-home service where you drop them off at the show, then they are taken to the PCGS / PSA office, and they will soon be shipped back to you. So, you are still saving on the initial shipping, which I can say from experience, can be the most stressful aspect of shipping items, regardless of the cost and / or value of what's being sent.
Over the last few years, I've sent a number of Funko Pops! out for signings ranging in value from around $10 all the way up to $150 before they even got autographed. While I've gotten better at implementing a system of taking photos of everything before the box or envelope gets sealed, printing out two order forms, and clearly marking my order number in as many places as possible, there have been times where I'll think I forgot something important and then have to tear apart everything and start over. Even though boxes can usually be found for free, some things call for specialty shipping cartons, and those can be costly and inconvenient to replace. So, why not avoid that worry of whether or not everything was packed right or wonder if your forms were filled out correctly, or were even included in the shipment?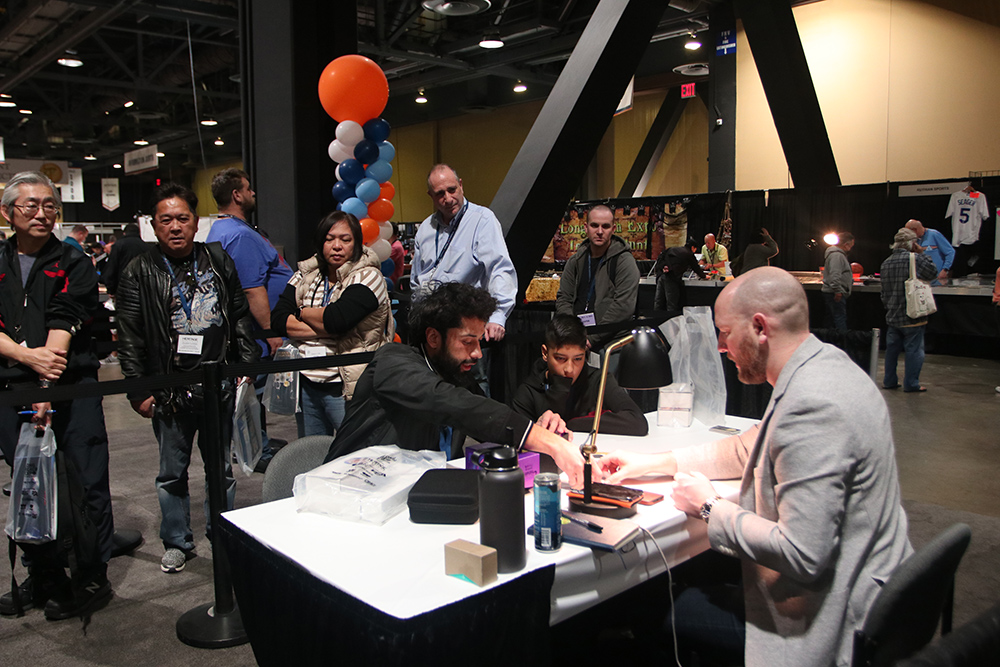 Visitors line up for Meet the Coin Expert. Courtesy of Long Beach Expo.

Greater Assistance
While we're on the subject of forms, filling one out on your own, especially if it's your first time, can be a daunting task. Even with the assistance of the PCGS and PSA Submission Guides there are often lingering questions for new submitters, and even seasoned Collectors Club members who might have a complicated order. The Long Beach Expo has always provided a great opportunity for collectors to interact face-to-face with PSA and PCGS Customer Service Representatives, and the number of offerings to improve this process has grown in recent years. Both brands now offer a submission lounge where customers can fill out their forms in a comfortable environment with assistance in a small group setting.
Meet the Expert sessions take place each day of the show for coins, banknotes, and / or sports. So, if you're not quite sure about what exactly your collectibles are, or are worth, you can ask an industry expert and then go straight over to PCGS or PSA to have it graded and authenticated. The "Waitwhile" system was introduced at the February 2023 Long Beach Expo, giving collectors the option to reserve a place in line or schedule an appointment for drop-off. With this easy system in place, visitors can walk around and enjoy the show even more.
Attendees on the hunt for the next addition to their collection.
Courtesy of Long Beach Expo.

You Can Buy More Stuff
Let's face it, whether or not we've told ourselves as collectors that we're going to stop acquiring things for a while, if something we've been looking for shows up, we're probably going for it. After all, you never know when you might see that item again. With hundreds of dealers at the Long Beach Expo in Southern California specializing in coins, banknotes, bullion, TCG, stamps, sports cards and memorabilia, and more, there's something for collectors of any budget. I have found virtually all of the items listed above plus many other cool collectibles, from comic books to art prints, and I have even attended autograph signings at the show. You really never know what you might find at a Long Beach Expo!